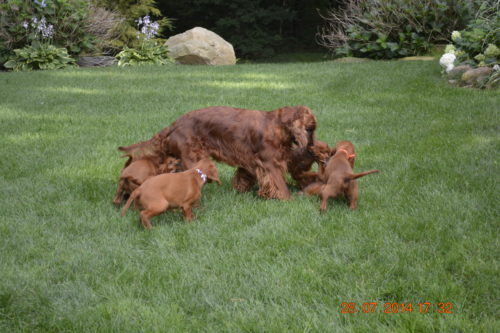 Erinshire Irish Setters
Kennel News and Updates on Erinshire Irish Setters show dogs and puppies
December 2018
We, here at Erinshire Irish Setters,  are beyond sad,  to post this news,  that we have lost the battle to save Scarlett.  She went on December 8, after just a few weeks, from  a cancer that was aggressive and untreatable.  It was the most difficult time and by the time the diagnosis was made it was too late.  She had never been sick a day in her life.  At first ,  she was still active and running with the others, no temp, but occasional vomiting .  We started with having her into the vet for x-rays, that  showed nothing abnormal, blood work normal, ultra sound normal……….but not eating anything.  From injections to prevent vomiting and force feeding, to appetite stimulants, but no diagnosis.  We went to another specialist at SNVRH (Southern New Hampshire Veterinary Referral Hospital) a Board Certified Vet, in internal medicine finally a diagnosis, in plain language she had gastric cancer.  This loss has been very difficult, Scarlett was from our first breeding at Erinshire, not purchased from another breeder, truly a loss that is difficult to understand,.  For now, we will take some time to decide how to proceed, we will post our plans in the new year.
September 2018
It has ben a busy summer, back and forth to Rhode Island, from New Hampshire Kennel.  We did not attend any dog shows this summer, but the dogs spent plenty of time working on their field training.  Connor especially loves to "hunt" and shows wonderful promise on birds, and yes some butterflies and dragonflies as well.  Catie has moved to Bar Harbor in Maine, to a wonderful home, all the puppies are doing well in their new homes and the colors of the mountains is beautiful this fall….There are a few outdoor dog shows and Specialty shows in Conn. in early October, but family commitments are preventing us from attending.  Life has been hectic this summer, with weddings and new grandson born in August, dog shows have to wait……Eliott is looking forward to the Veterans Classes now.  Not much else happening, just waiting for Scarlett to come into "season" to attempt a breeding for the last time, she only comes into season every 12-14 months, so we have had only 6 opportunities to breed her, last two attempts we vet assisted with artificial insemination and did not take, so Brenda has taken the time to learn the AI procedure and is planning to do the procedure, if a live breeding does not happen.  We have selected a male from Vermont that is from the Captiva bloodline.  If it does not take, Scarlett will be retired from the breeding program, mostly due to age.
June 2018 
June started off with a long and exhausting show schedule…… Brenda took Shannon and Eliott to a 10 day road trip that included a trip to Ontario, Canada to attend Erie Shores Kennel Club circuit from June 1 – 4 2018.  Travelled up to Captiva Kennels, to the home of Jill Taylor and attended the shows, and then on June 5th several dogs with Jill and friends,  all headed out to Sandusky, Ohio, to the 46th Annual Irish Setter Club of America 2018 National Specialty for 5 days.  Eliott was in the 8-10 Veterans Sweeps on Wednesday night, and in Veterans Class on Thursday, Shannon was in the Puppy 9-12 month class and Sweeps.  Lots of Irish Setters, I read that there 338 Irish Setters and a total of 510 entries in Confirmation, Obedience,  Rally, and Agility Trials. 
Show Results:
Eliott has added a new show title to his accomplishments Best In Specialty Show (BISS).  The show was in part of a 4 day event sponsored by the Erie Shores Kennel Club.  The Ontario Pointing Dog Gun Club held the show on Friday June 1, 2018 with the Judge Mr. D. Wong from Australia. 
The second show later on Friday June 1, 2108 was the Erie Shores Kennel Club all breed show, when he repeated the win,  Best of Breed under Judge F. Kane from England         
It was also Shannon "Erinshire's The One and The Only" to enter the show ring for the first time.  She was entered in the "senior puppy" 9-12 months bitch classes in the Erie Shores KC in the on Friday June 1,  Judge Mr. F. Kane also selected Shannon for a first in 9-12 months in the Erie Shores KC show,  she now has her first "First Place" ribbon. 
We are looking forward to entering her this summer, she did extremely well in some of the show rings, not so much in at the National in Ohio, but it was her first road trip with lots of new people and dogs, she held up quite well considering her age of 11 months and with the companionship of  Eliott, who is an excellent role model, she learned the "ropes"  and she found comfort with him at her side …. 
in a series of shows in the New England area and might get to travel out to the mid-west shows……we will see what the summer brings….
April 2018
Just a quick update, last June,  we had a singleton puppy born, and 5 of the families that were selected for homes did not get a puppy, they were offered first the puppies from the January 2018 litter   "The Magic Litter" (repeat breeding of Eliott and Catie) some of those families waited for a puppy and were on the list for more than a year.  Thank you for waiting and staying with us for your puppy .  All the puppies are now in their new families.  The males  The 3 females are in Maine and Vermont, and the boys are both in Mass. I was able to deliver each puppy to their new home and spend some time with the new owners.  One of the boys is with new "parents" and first time Irish Setter owners.  Gentle guidance, with patience will provide this puppy with a loving home for his life.  First time Irish Setter owners receive a great deal of support at every stage of the Irish Setter development, from us to assist in anyway we can.  This loving puppy will soon be 75 pounds of high energy and will still be a puppy, the boys especially seem to take a lot more time to develop into "well behaved members of the family".  Catie, mother of the last litter is living in Bar Harbor, Maine.  We decided that she would not be breed again, as Shannon, that singleton puppy  is our next generation.     A family that applied for a puppy, after several conversations it was agreed that they  were more suitable for an older trained dog, so Catie found her forever home in Bar Harbor, Maine with a wonderful family who has had many irish setters in the past.  All puppies are doing well and were are thankful to all the applicants, and hope that our next litter will again produce such beautiful puppies, and have such wonderful homes.
January 2017  THE MAGIC LITTER
Puppies arrived on January 10 in the midst of a huge snow storm,  the Magic Litter has 5 puppies, 3 females and 2 males.  Some of the families from last June 2017 waiting list will be offered puppies first..  Interested applicants use the tab on this site to see how to apply for the puppies.  Puppies from this litter are $2200.00 with a non refundable deposit required to hold puppy.  The litter is sired by our BEST IN SHOW dog Eliott and Catie who has points towards her AKC championship and CKC championship, both dogs have CGC titles as well.