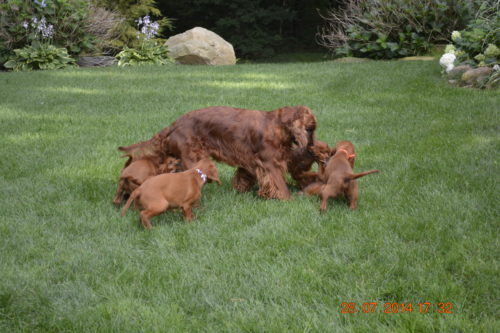 Erinshire Irish Setters
Kennel News and Updates on Erinshire Irish Setters show dogs and puppies
June 2018 
June started off with a long and exhausting show schedule……Brenda took Shannon and Eliott to a 10 day road trip that included a trip to Ontario, Canada to attend Erie Shores Kennel Club circuit from June 1 – 4 2018.  Travelled up to Captiva Kennels, to the home of Jill Taylor and attended the shows, and then on June 5th several dogs with Jill and friends,  all headed out to Sandusky, Ohio, to the 46th Annual Irish Setter Club of America 2018 National Specialty for 5 days.  Eliott was in the 8-10 Veterans Sweeps on Wednesday night, and in Veterans Class on Thursday, Shannon was in the Puppy 9-12 month class and Sweeps.  Lots of Irish Setters, I read that there 338 Irish Setters and a total of 510 enteries in Confirmation, Obedience,  Rally, and Agility Trials. 
Show Results:
Eliott has added a new show title to his accomplishments Best In Specialty Show (BISS).  The show was in part of a 4 day event sponsored by the Erie Shores Kennel Club.  The Ontario Pointing Dog Gun Club held the show on Friday June 1, 2018 with the Judge Mr. D. Wong from Australia. 
The second show later on Friday June 1, 2108 was the Erie Shores Kennel Club all breed show, when he repeated the win,  Best of Breed under Judge F. Kane from England         
It was also Shannon "Erinshire's The One and The Only" to enter the show ring for the first time.  She was entered in the "senior puppy" 9-12 months bitch classes in the Erie Shores KC in the on Friday June 1,  Judge Mr. F. Kane also selected Shannon for a first in 9-12 months in the Erie Shores KC show,  she now has her first "First Place" ribbon. 
We are looking forward to entering her this summer, she did extreamly well in some of the show rings, not so much in at the National in Ohio, but it was her first road trip with lots of new people and dogs, she held up quite well considering her age of 11 months and with the companionship of  Eliott, who is an excellent role model, she learned the "ropes"  and she found comfort with him at her side …. 
in a series of shows in the New England area and might get to travel out to the mid-west shows……we will see what the summer brings….
September,  Well summer has just about finished, and fall starts tomorrow, hope the colors are going to last the next few months.  Not planning on any shows at this time, and hoping to breed a litter, but it is up to Scarlett, last September breeding did not take so we hope she will come into season and produce a litter late this year.  She is in great condition and has proven to be an excellent brood mom.  Her last litter was in 2014 and she only comes into season ever 10 or 12 months…..difficult to plan breeding to her.  So we have our hopes up, and will keep this site posted.