Erinshire Irish Setters
KENNEL ANNOUNCEMENTS 2023
July News
Looking for a puppy?
We are assisting a breeder friend who has a litter of 4 males and 4 females available to place her puppies.  This is a very reputable breeder that breeds very rarely, and does not have a web site.  I have offered to assist her in gathering applications and screening for her appropriate homes for the litter. She has show dogs out on the road with handlers and most weekend is with them.  This is a repeat litter of last summer, and I have all the details available, so please email me if you are looking for a puppy.  They were born the 4th of July and will be ready for homes early September.  Please get in touch with me for application.  Thank you
Please review our home page for announcements about whats been going on…..we have decided to offer a male puppy for placement at 2.5 years that is ready for his forever home, we kept him for our breeding program and have decided he is not what we were hoping for but just stunning and has been trained and house broken, excellent on a leash and really ready for his forever home.  Wihtout all the puppy months of potty work, he has been neutered.  He has attended obedience classes. check him out on our home page……we also will have another male (litter brother) who will be available in a few months, he is much bigger at 90 lbs so will require a stong leader with plenty of Irish Setter experience…..wait for that posting…..later this summer.
OCTOBER 2022 
All the puppies from our Februrary 14th litter, the "Love Litter" have now been in their forever homes a few months and all are doing well, Eddi is in Mass, Ranga is enjoying life on Cape Cod, Greta is loving life in Vermont, and Redford is living the life in Utah
As for our future litters, we are waiting for next spring and we are planning a breeding to Paige, Captiva A Page of Erinshire.  We are hoping to get back to the show ring with her before she is bred to our Connor or a male we have bred back in 2018, an Eliott son.  As for Shannon, our wonderful and bossy girl, she is now 5 yrs. and we just might breed her again, she is the best mother to her puppies and handles her litters with experience and love.  So that is our breeding plan and we will see if mother nature co-operates.  A HAPPY THANKSGIVING AND A SAFE AND HEALTHY HOLIDAY SEASON to everyone.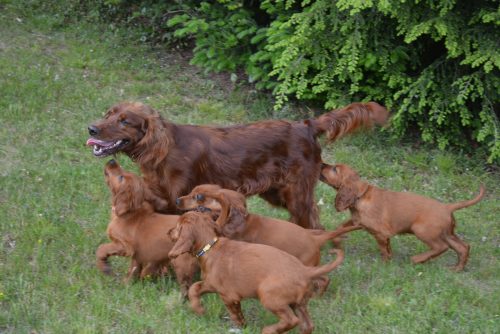 FEBRUARY 14,2022    THE LOVE LITTER
WE ARE THRILLED TO ANNOUNCE PUPPIES !!
Puppies due this weekend!!
We have a wait list but are still accepting inquiries for this litter
Please send inquiries to Bpierhal@aol.com
WE BRED SHANNON AND CONNOR AGAIN AND WILL PRODUCE PUPPIES IN MID FEBURARY 2022
We are waiting to confirm a litter of puppies that is a repeat of the Dream Litter and the Promise Litter from 2020.  Puppies from this breeding can be seen on our Litter page, these puppies have proved to be some of the best we have produced with the breeding program in the past 12 years.  We did not breed in 2021 and Shannon had a rest from whelping her puppies and is in excellent condition for the upcoming "motherhood" that we anticipate will be mid Febuary, with puppies ready for their forever homes by the first of May. We have on file contacts from last year that we will contact and start applications once we are confirmed puppies in a few days.  Please go to the web page to see how to contact us and the details of the purchase of one of our puppies.
Other Updates and News
Happy New Year to everyone, we hope the holidays were fun and all then puppies from our Dream Litter and the Promise Litter and their families have enjoyed the fun and family time.  Again, this year we have not been able to attend dog shows as we usually do, Brenda took Paige in September 2020 to the ISCNE specialty, showed in the Novice Class.  Paige was a natural, especially since she has never been on a leash. She watched the classes from my chair and when it was her turn, off she went.  Won her class and returned to the ring to compete for Winners Bitch, with our friend Tara and stacked nicely for Tara and did not mind another handler.  In June 2021, Brenda entered Ryan, (the male we kept from the Promise Litter) entered in the 6 to 9 month class, it was an overnight experience for Ryan and early in the ring the next day.  There was a last minute change in Judges, a new  Judge was assigned,  and disappointedly, Ryan went into the ring for the first time….. he was silly and as puppies can be, thought it was time to play.  Eventually settled as we went around the ring, he is a tall boy and huge gait to keep up with, at a year old he weighed 76 lbs!  He definitely needs alot more training,  and in the spring of 2022 we hope to get him out to shows. We are hoping to get to some local shows in early summer, we especially enjooy the outdoor shows.  Mean while we will wait and prepare for healthy puppies…… Oh one last note….. it seems it might be possible that Paige is coming into season soon? if the boys are right, or just excited about Shannon's condition.
December 17, 2021
Our the last litter born Nov 2021 were all placed, except we kept a male. The girls are called Gracie, who is with a lovely couple in Canada, the Toronto area, her parents have a male from our Dream Litter ( April 2021) and the twin girl, called CeCe lives in Lousiana, with 4 adorable and growing children, her mother is a Vet and father is in thre film industry and she is very spoiled.  The other male puppy Seamus, lives in New Hampshire, with a lovely family with lots of grandkids and a Golden Retriever as a playmate.  Fantastic families, all worked with us with the Covid issues and visits were done, at the kennel and all placements were complete by the first week of February 2021.  After the puppies were place,  we chose a male to keep, possibly our last show dog, Ryan sometimes called Ralphie by Lee, is an amazing boy. He was the male of the twins, weighing 4oz. at birth!   It has been almost 9 months ago, we were at the Vet yesterday and had him on the scale, he weights 76 lbs!!!! not yet 9 months and very tall!!  He is taller than his sire Connor, who is a good size for a male.  He thinks he is a puppy, and actually I have to remind myself he is still a puppy! and will be for some time, just a really big boy that doesn't fit in my lap anymore.  His personality is darling and sweet, and alittle bit stuborn too.  Because he is the big, and seems to know this, he plays rough and squashes Paige his best playmate ever, the things she lets him do!! she has very little feathering on her ears because he drags her around and sits on top of her…..they are pure enjoyment to watch.
As for puppies, dear Paige came into season as soon as the puppies all left for their forever homes, early Febuary and we were not prepared for another litter in 9 weeks, so we let it go and thought she would be in season in late summer, but that has not happened, and we do not want to raise another litter in the winter, so if she doesn't come into season now we hope it is late December or Jan for a spring litter would be ideal.  Shannon also came into season in June and we did not breed her, giving her a break from motherhood.  So we will wait and see what the end of the year will bring……meanwhile Ryan has to "grow up" well at least mature, kind of hoping he is as big as he will get, except for filling out, he has a beautiful coat, dark, thick and straight…..what a show dog he will be!!  NOW some pictures of the puppies
November 19th, the repeat breeding of the Dream Litter was whelped.  We had 4 puppies, 2males and 2 females, including a set of twins.  The twins were quite a surprise, I have heard of twins, but never ini my litters.  It requires immediate and constant care, the birth weight was male 4 oz each. They were so tiny for the first few days extra feeding formula with an eyedropper, they were to small to nurse.  The other puppies were larger 10 0z and 8 0z, bigger  than most puppies.  Now 3 weeks later all puppies are fine, the twins have with lots of care and feedings, caught up with their siblings….they are all thriving…
Shannon is a wonderful mom to her puppies and will soon be done nursing this brood. Its been alot more work but a small litter gives us lots of time to give lots of attention and play with them.
 Back in the fall, late September, Shannon came into season and we decided that we would do a back to back breeding, we did a repeat breeding of the Dream Litter and it has been confirmed that we will have puppies.  These puppies are due about November 22, 2020 and will be ready for new homes the first week of February 2021.  Please review our "purchasing a puppy" page and email as directed if you are interested in this litter, we have an extensive wait list, but not all applicants follow through or meet our high standards and would be happy to consider your family for a puppy.  We are thrilled to have puppies again, we will be keeping the pick male from this breeding…….the last litter was amazing! There are pictures of the Dream Litter on the site…..on the Erinshire Litters Pictures
 The Dream Litter was whelped April 12 Easter Sunday again.  the Forever Litter was also born on Easter Sunday 2010 
All puppies have found their forever homes, with Roxy, Redmond, and Tessie living in NH, Fritzgerald, Shannon and Emma in Mass, Rogan in Ohio and Darby in Missouri.  We had planned to keep a male but this summer is exceptionally busy and we will  not enough time to raise a puppy.  We are preying for this Covid virus vaccine will be available to everyone soon, we have recieved our first and scheduled for the second next month, to everyone else please wear a mask until we are all safe. The litter is our Dream Litter for many reasons, I saw a banner at Dartmouth Hitchcock that said, "just because you had a nightmare, don't stop dreaming".  So true, and here are some pictures of the Dream Litter.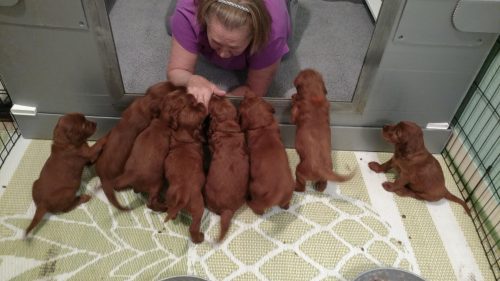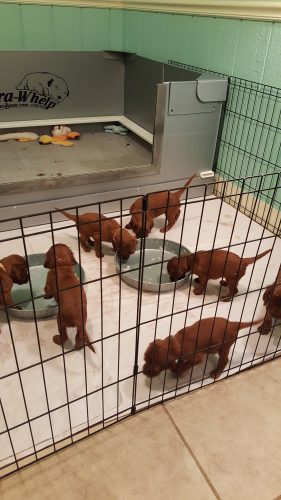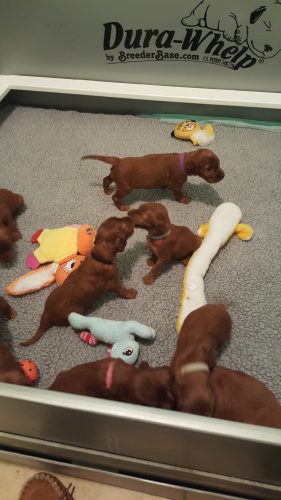 This was an exceptional litter, 10 years of breeding to reach this 4th generation and this combination proved to be the best litter we have ever bred, and we will be repeating it next year.
Sire:  Erinshire's Always the Proud and the Brave   DOB: May 27, 2014
Connor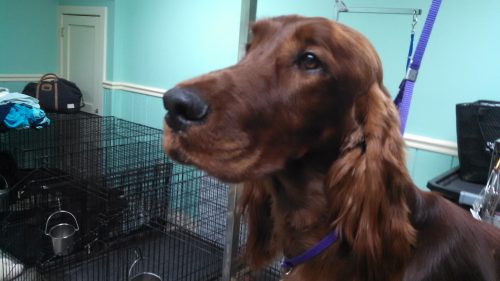 Connor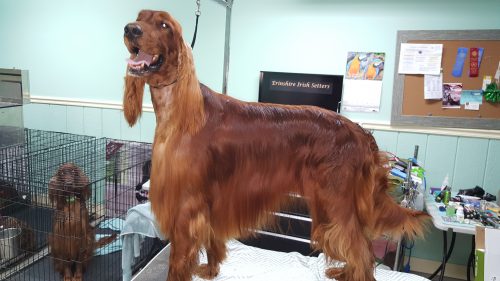 Dam:  Erinshire's The One and The Only  DOB: June 16,2017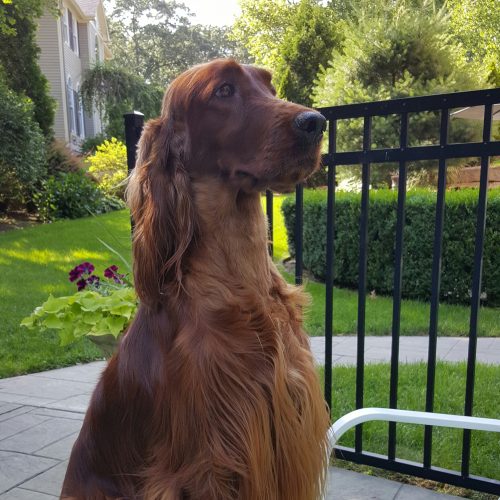 Shannon  summer 2019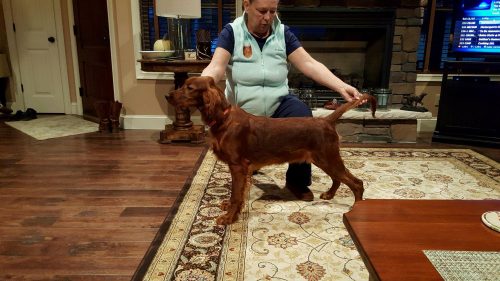 Shannon at 1 year
This litter brings the two bloodlines I have developed by breeding Connor, sired by Robert a Multiple Best in Show titles and No.1 Irish Setter in Cananda 2008 & 2009 Captiva" Turning Heads and Shannon sired by  ELIOTT our  Best In Show Erinshire's Forever Stars N' Stripes from our first litter in 2010.
We are very excited about this litter to see which ones we will keep, for future show and breeding's……
Puppies are due Easter week, by chance?  In 2010 the Forever Litter was born on Easter Sunday (April 04/2010) That was 10 years ago, there were 12 puppies 6 males and 6 females in that litter.  This was ment to be!!!
October 2019 Update:
With regret, the breeding of Shannon to  AKC Mc Kippens Green Mountain Boy,  "Brogan" did not produce a litter.  So we will repeat that same breeding as soon as she comes into season "heat" which is due around late January 2020 and prior we will have both dogs re-examined for any issues that might be a factor in producing a litter.  We are going to stay with this sire because he is a lovely male and his pedigree is what we are looking for, and very hard to find the combination these two Irish Setter can produce.  Watch for updates in early January and posting for the breeding…..typical is that if she is bred in late January the puppies take 9 weeks so that would be an April litter and puppies ready to leave kennel at 10 weeks, about the first week of June 2020. If this fits your family schedule for a new puppy, please do not hesitate to contact and start the application process early, we already have a waiting list, and remember the non refundable deposit is not due until the puppies are born and we have a puppy available for you.  Applications are taken in the order they are approved and on the "Active List" are families that are approved and will be contacted as soon as puppies are born and the size of the litter can provide you with a puppy.
July/August 2019
We like to announce that we have bred Shannon last week and will know if we have a litter in a few weeks,  details on sire and health clearances are forth coming and hope this produced a wonderful litter especially with the male we selected….very excited,  the litter would be born the first week of October!!! Keep in touch and watch the postings or email us at
Brenda@erinshireirishsetters.com
April 2019
Our new puppy, Paige has arrived from Captiva Irish Setters, late last month.   A long trip up to Cambridge, Ontario and returned home to New Hampshire, we had a great visit with everyone.   We thank Jill Taylor for trusting us with the future of this beautiful puppy.  We have named her Captiva's Turning the Paige at Erinshire,  and she is busy settling in with the rest of the pack.  She is quite "entitled" as every toy is hers, every soft bed, and "everybody look at me". She is incredibly outgoing and vocal with the others, she watches and learns so quickly.  Connor,  is sweet with her, Eliott is a little jealous, (as he is with me almost all the time) and she is taking alot of my attention, Shannon likes her a lot, and lets her pull on her ears, and has been playing with her and running with Paige in the open yard. She is use to the routine already and adapted quickly, sleeps through the night after a few days, and already knows what "cookie" means……. We have been digging out of the snow for months, and this is Easter Weekend now, and still some snow on the ground.  Paige seems to enjoy the snow as all our dogs do, and they will probably miss it when and if it all melts.  Pictures in the snow!!!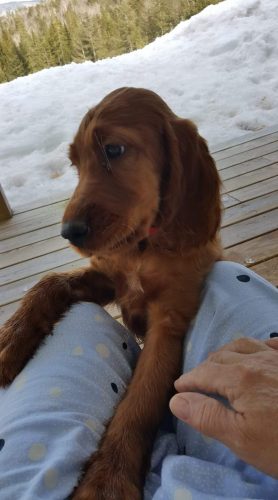 February 2019
Well after the unbelievable loss of Scarlett, the "pack" is getting back to a balance state.  Eliott seems to have stepped up to lead…….Connor has settled down, and Shannon came into season in January!!….Even though Shannon got the guest room, the boys were beside themselves.  Keeping everyone separated for three weeks, presents issues, everyday, even though the facility allows for separate runs, it  was more than the usual due to the incredible snow fall and below zero temps through out the month of January and early February this winter.  The snow fall  has been brutal with more than 5 feet of snow and lots of ice..so far and it is still snowing…..Dogs love the snow, but keeping them safe from injuries on the ice and heavy snow fall, and not allowing  them run together, until Shannon was out of season was a juggling act….on most days it was more of a challenge to keep the kennel surface free from ice and keeping it clean.  In January, we had 3 weeks when the temps were never above freezing, and that polar vortex we were down in the minus temps, frost bite in minutes. Dogs usually get outside around noon, the warmest time of the day, for about 15 minutes to up to a half hour, several times a day, one at a time!!! ….Glad that's over, and what is with the fascination with my mitts?? Connor and Shannon ? 
Now for the news:   At this time we are planning to bring  a new female puppy to our kennel, and to our breeding program.  We have gone outside our  bloodline but a wonderful complement that will open up the breeding program and allow us to use our boys to sire some future litters…and the pedigree on this female brings some admirable and distinguished Irish Setters from the past, and present. So keep watching for the arrival in a few more weeks….early spring ……if it ever arrives!!
                                                        December 2018
We, here at Erinshire Irish Setters,  are beyond sad,  to post this news,  that we have lost the battle to save Scarlett.  She went on December 8, after just a few weeks, from  a cancer that was aggressive and untreatable.  It was the most difficult time and by the time the diagnosis was made it was too late.  She had never been sick a day in her life.  At first ,  she was still active and running with the others, no temp, but occasional vomiting .  We started with having her into the vet for x-rays, that  showed nothing abnormal, blood work normal, ultra sound normal……….but not eating anything.  From injections to prevent vomiting and force feeding, to appetite stimulants, but no diagnosis.  We went to another specialist at SNVRH (Southern New Hampshire Veterinary Referral Hospital) a Board Certified Vet, in internal medicine finally a diagnosis, in plain language she had gastric cancer.  This loss has been very difficult, Scarlett was from our first breeding at Erinshire, not purchased from another breeder, truly a loss that is difficult to understand,.  For now, we will take some time to decide how to proceed, we will post our plans in the new year.
September 2018
It has ben a busy summer, back and forth to Rhode Island, from New Hampshire Kennel.  We did not attend any dog shows this summer, but the dogs spent plenty of time working on their field training.  Connor especially loves to "hunt" and shows wonderful promise on birds, and yes some butterflies and dragonflies as well.  Catie has moved to Bar Harbor in Maine, to a wonderful home, all the puppies are doing well in their new homes and the colors of the mountains is beautiful this fall….There are a few outdoor dog shows and Specialty shows in Conn. in early October, but family commitments are preventing us from attending.  Life has been hectic this summer, with weddings and new grandson born in August, dog shows have to wait……Eliott is looking forward to the Veterans Classes now.  Not much else happening, just waiting for Scarlett to come into "season" to attempt a breeding for the last time, she only comes into season every 12-14 months, so we have had only 6 opportunities to breed her, last two attempts we vet assisted with artificial insemination and did not take, so Brenda has taken the time to learn the AI procedure and is planning to do the procedure, if a live breeding does not happen.  We have selected a male from Vermont that is from the Captiva bloodline.  If it does not take, Scarlett will be retired from the breeding program, mostly due to age.
June 2018 
June started off with a long and exhausting show schedule…… Brenda took Shannon and Eliott to a 10 day road trip that included a trip to Ontario, Canada to attend Erie Shores Kennel Club circuit from June 1 – 4 2018.  Travelled up to Captiva Kennels, to the home of Jill Taylor and attended the shows, and then on June 5th several dogs with Jill and friends,  all headed out to Sandusky, Ohio, to the 46th Annual Irish Setter Club of America 2018 National Specialty for 5 days.  Eliott was in the 8-10 Veterans Sweeps on Wednesday night, and in Veterans Class on Thursday, Shannon was in the Puppy 9-12 month class and Sweeps.  Lots of Irish Setters, I read that there 338 Irish Setters and a total of 510 entries in Confirmation, Obedience,  Rally, and Agility Trials. 
Show Results:
Eliott has added a new show title to his accomplishments Best In Specialty Show (BISS).  The show was in part of a 4 day event sponsored by the Erie Shores Kennel Club.  The Ontario Pointing Dog Gun Club held the show on Friday June 1, 2018 with the Judge Mr. D. Wong from Australia. 
The second show later on Friday June 1, 2108 was the Erie Shores Kennel Club all breed show, when he repeated the win,  Best of Breed under Judge F. Kane from England         
It was also Shannon "Erinshire's The One and The Only" to enter the show ring for the first time.  She was entered in the "senior puppy" 9-12 months bitch classes in the Erie Shores KC in the on Friday June 1,  Judge Mr. F. Kane also selected Shannon for a first in 9-12 months in the Erie Shores KC show,  she now has her first "First Place" ribbon. 
We are looking forward to entering her this summer, she did extremely well in some of the show rings, not so much in at the National in Ohio, but it was her first road trip with lots of new people and dogs, she held up quite well considering her age of 11 months and with the companionship of  Eliott, who is an excellent role model, she learned the "ropes"  and she found comfort with him at her side …. 
in a series of shows in the New England area and might get to travel out to the mid-west shows……we will see what the summer brings….
April 2018
Just a quick update, last June,  we had a singleton puppy born, and 5 of the families that were selected for homes did not get a puppy, they were offered first the puppies from the January 2018 litter   "The Magic Litter" (repeat breeding of Eliott and Catie) some of those families waited for a puppy and were on the list for more than a year.  Thank you for waiting and staying with us for your puppy .  All the puppies are now in their new families.  The males  The 3 females are in Maine and Vermont, and the boys are both in Mass. I was able to deliver each puppy to their new home and spend some time with the new owners.  One of the boys is with new "parents" and first time Irish Setter owners.  Gentle guidance, with patience will provide this puppy with a loving home for his life.  First time Irish Setter owners receive a great deal of support at every stage of the Irish Setter development, from us to assist in anyway we can.  This loving puppy will soon be 75 pounds of high energy and will still be a puppy, the boys especially seem to take a lot more time to develop into "well behaved members of the family".  Catie, mother of the last litter is living in Bar Harbor, Maine.  We decided that she would not be breed again, as Shannon, that singleton puppy  is our next generation.     A family that applied for a puppy, after several conversations it was agreed that they  were more suitable for an older trained dog, so Catie found her forever home in Bar Harbor, Maine with a wonderful family who has had many irish setters in the past.  All puppies are doing well and were are thankful to all the applicants, and hope that our next litter will again produce such beautiful puppies, and have such wonderful homes.
January 2017  THE MAGIC LITTER
Puppies arrived on January 10 in the midst of a huge snow storm,  the Magic Litter has 5 puppies, 3 females and 2 males.  Some of the families from last June 2017 waiting list will be offered puppies first..  Interested applicants use the tab on this site to see how to apply for the puppies.  Puppies from this litter are $2200.00 with a non refundable deposit required to hold puppy.  The litter is sired by our BEST IN SHOW dog Eliott and Catie who has points towards her AKC championship and CKC championship, both dogs have CGC titles as well.