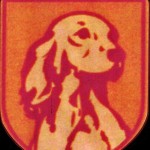 Welcome to Erinshire Irish Setters LLC.
A little about Us:
Brenda and Lee (Leon) Pierhal own and operate Erinshire Irish Setters LLC. We have a home with over 145 acres in the White Mountains in New Hampshire, here we operate our kennel business in the town of Wentworth (just north west of Plymouth).  We also keep a home in North Kingstown, Rhode Island, were we are 5 miles from the ocean and beaches, a favorite of all the dogs.  We travel between the two locations throughout the year.  .Brenda works "full time" in the kennel and Lee,  now semi-retired consults on all the business and financial  aspects in building  our  kennel business.  Brenda has been involved with Irish Setters since 1977, develops the  breeding program, grooms, shows and trains all of the dogs. She reviews applicants and potential placements for our puppies, providing support to families for the life time of those puppies.  We, for more than 10 years, are members of the Irish Setter Club of America and the Irish Setter Club of New England.  All our puppies are Reg'd. with the American Kennel Club before they leave our kennel. We believe that to achieve the highest standards possible, that every puppy we breed has their DNA on record with the AKC to authenticate their  parentage and breeding and believe this should be the standard set by the AKC, hopefully one day it will.
We both participate in the daily work in keeping up the kennel,  We presently as of June 2017, have five Irish Setters in our home.  All of our dogs are house dogs, and very well trained.  Irish Setters are very intelligent dogs but require "positive" training techniques and plenty of exercise. When they are young they need to experience plenty  of socialization, obedience training and consistency in order to develop into well behaved members of the family.  They are constantly entertaining, and love to be with their humans, they live for attention, and companionship. Over the past 40 years we have had the pleasure of sharing our lives with the irish Setters we have raised and loved, Kalhua, Erin, Ryan, Sean, Shamus, Reagan, Erin II, Eloise, Eliott, Scarlett, Jack, Connor and Caitlin, and each of them with wonderful and uniquely different personalities.  New to the pack, on June 16, Shannon was born to Catie and Eliott breeding…..there are pictures of her on the Litter tab……she is holding her own and thinks she can runs with the big dogs…. some day soon.
History

……..a long time ago in not so far away land…….
Erinshire Irish Setters began in 1977, in a small town in Ontario, Canada, when I bought my first Irish Setter from Killane Kennels (John and Muriel Royston) in Ontario.  She was called Kahula and was my first irish setter.  I had no idea that the love of this breed was going to take me on a journey that has lasted for more than 40 years..
In 1978, my next Irish came from Armagh Kennels (Peter and Patricia Hempstead) in Beeton, Ontario. A lovely bitch Erin, Erinshire's Emerald Lace.  Another Irish in 1979 also from Armagh,  joined the kennel, a male Ryan, a stunning boy with a head piece unmatched.  He was sired by Am & Can.Ch. Starheir's Aaron Ardee, (owned by Hugh and Virginia Rumbaugh) a top winning Irish Setter in the United States through the 1970's.
It would be almost 15 years, and a relocation from Ontario to New Hampshire, that another Irish would join the Erinshire Kennel.  In 1994, Lee and I purchased Sean, "Blazing Sean O'Boy of Erinshire".  He was "our pet", but probably the smartest Irish of them all.  He was our constant companion and Lee's introduction to Irish Setters. The following year 1995, Lee's job required a move to North Kingstown, Rhode Island. The next Irish to joined us in September 2001, Shamus, he was sold to us as a pet but was exceptional, and definitely show quality. He became known as CH. Piperbrook's American Pride. Shamus was shown by his breeders through 2005-06.  In 2007, Shamus needed a singal point to finish his AKC championship, I showed him for that last point! It was the first time I had been in the show ring in more than 25 years…..and it would be another 10 years,  when  I  would show my own home bred dog from  Erinshire Irish Setters, from our first litter, our Best In Show dog, Eliott, at the Westminster Kennel Club Dog Show in NYC in February 2015 & 2016, (more on that on Eliott's page).
In 2004, on Memorial Day, while at a dog show, Lee surprised me with an early birthday gift, a puppy from Piperbrook Setters, we called Reagan.  He became Am.Ch. Piperbrook's Forever A Star.  He was a half brother to Shamus, and finished his Championship with all majors. His first weekend out showing, in Wisconsin, the first show was a Specialty, he won Best of Winners, and 5 points. Then followed up with back to back 4 pts wins. That was 13 points in 4 shows. (AKC Championship requires 15 points). He finished under Robert Fortsyth for his last 4 pt. major. Reagan, was a stunning Irish Setter, with a very dark mahogany coat, that he passed on to his puppies, as well as his soft personality, and his funny smile.  When we lost him I thought I would never  see another Irish Setter that would own my heart the way he did.  If we were on the road to shows and he was always with me, he was a companion to all his puppies and watched over them, always loyal, compassionate and most loving dog I had ever owned.  Those were really big paws to fill some day.
In 2008 and 2009, Erinshire Irish Setters, became the very proud owners, and provided the financial backing for the "campaign" of our exquisite and beautiful girl,  CH. Beaubriar's Premeire Event.   Eloise was an outstanding bitch with an incredible attitude and love for the show ring like I have never seen before. She was campaigned throughout 2008 and 2009.  In 2008 she was the number 1 Irish Setter in the United States, Number 6 Sporting Dog, achievements inculde 7 Best In Show, 39 Best In Specialty Shows, also winning Award of Merit at the Irish Setter National Specialty and Westminster Kennel Club in both 2008 & 2009.
After owning the number 1 Irish Setter in the country, I thought it was time to get serious about breeding and showing our own dogs with the Erinshire name. I had been planning this for more than a year, and knew it would require a breeding program to produce the type of Irish Setter that I had always loved. Reagan's qualities and his pedigree, would decide where my breeding program would go.  Reagan, was sired by Ch. Waterford Show-Off.  In 2004, he won Best Of Breed at the (National) Irish Setter Club of America.  His sire went back to Canadian bloodlines from Tealwood Irish Setters, Dave Carey, a kennel I was knew back in the 1970's. After a lot of re-searching for the right bitch to add to this pedigree and re-thinking, I chose a bitch from Orchard Farm Kennel (Reg'd) in Ontario. A kennel that had been breeding Irish Setters since 1938.   I met Mary Klinck at a specialty show in Michigan, she had a female available to a show home, and she was already named Erin!  In September 2007, Erin, Orchard Farm Lace to Erinshire, joined the family, and would eventually be bred to Reagan. This was the last litter from Orchard Farms, as Mary passed away shortly after. Both dogs have American and Canadian bloodlines, and would produce my first litter under the Erinshire name. A wonderful litter was produced in 2010. (Pedigrees are posted on each dogs page)
Easter Sunday, April 04, 2010, the FOREVER litter was whelped, 6 males and 6 females, the dirty dozen as they were also called!  From that litter, a male and a female stayed, all the other puppies were sold to pet homes.  Eliott and Scarlett were the puppies that would be our first home bred Champions for Erinshire Irish Setters. With following the pedigrees that I chose we porduced from our first litter, a male Eliott, that  would be our first Best In Show dog.
Eliott  finish his American championship in 2014 with all Majors. This puppy grew up in the shadow of his sire, I constantly saw  the traits that I had loved so much in Reagan.  This is the boy that not only filled those paws, but exceeded all my dreams…..  In May 2015,  I took him to Ontario, to achieve his Canadian Championship, he finished in 7 shows with 2 Sporting Group Firsts and the day he finished with his last point for his Championship he also went  Best In Show!!!!  (thank you Jill).  In August 2015, I showed Eliott at the Canadian National Irish Setter Show, he went Select Dog, and Select Dog in an other Specialty show, and  Select Dog in an all breed show, all in one weekend. He is truly the best ambassador for the bred….everybody who meets him wants to take him home. He is pretty much retired from showing at this time, he will be in the Veteran class when is 8 yrs. and until then he will achieve his CGC title and work as a  therapy dog,  with the elderly and children.  He is the best boy ever, and he knows it…..
Scarlett, was shown as a puppy by Brenda.  By June of 2013 it came time to get her AKC championship before breeding her, we decided that she would be sent to Indiana, to be shown by professional handler Eileen Hackett.  She spent the next few months with Eileen and her staff,  getting trained for the show ring and getting her coat in condition.  She started with a few single point but in August, she finished will her 3 majors in just nine days. She came back with her championship, (the same week that we lost Reagan) and I showed her at a few Specialty Shows, then she was bred in March of 2014. The litter of 8 puppies, 3 females and 5 males were born on Memorial Day,  May 26, 2014. In order to achieve what wanted and "needed" in our breeding program, I went back to Canadian lines, the litter was sired by "Robert" BIS, BISS, Am.Gch., Can Gch., Captiva's Turning Heads, owned by Jill Taylor, in Cambridge, Ontario. It is worth looking him up on Jill's website, Captiva Kennels. This breeding brought in the classic and traditional type I was looking for in our dogs. All the puppies are sold to pet homes, and once again, we kept a male and a female. Connor and Caitlin (Katie) and have been shown as puppies, and when they are ready, they will return to the ring. Connor resembles his father and Katie looks just like her mother, right now they are being puppies and growing up "irish".
About Our Kennel:
Our primary location is in the White Mountains of New Hampshire, in Wentworth, about 15 miles northwest of Plymouth. We still keep a summer house in Rhode Island, and go back and forth throughout the year, but spend the summer months in Rhode Island as much as we can, we are five minutes from the ocean. The kennel in New Hampshire was built to accommodate our dogs, and guests with dogs. Our Irish Setters live in the house with us, they have their own room in our lower level and easy access to the outside kennel runs. We have just over 145 acres of land that has plenty of wildlife, pheasant, quail, turkey, rabbits, deer, moose, black bears and even a lynx has been spotted.  There are 4 miles of trails that have been cut through the bush, for easy hiking and riding through on the gator,  there is a stream with brown trout, and a few,…. now abandoned beaver ponds.  This property is mountain terrain and plenty of hills and valleys, with some field areas opened up for training dogs for field work for hunt tests.
The outdoor kennels are both covered and uncovered, with separate runs for each or an all open space allow all the dogs to be together. We have a separate puppy kennel inside and a separate whelping room. The kennel office is just outside the dogs kennel room, and opens into the family room. We have radiant heated floors, a professional bathing station along with a well supplied grooming area, with extra large crates, for each dog. We have the  dogs off leash to run on the property, they are always supervised, and are trained to recall.  There is plenty of  "free time" everyday with all dogs,  having time to explore the property and play together or in pairs. They love the trails and this keeps them in excellent physical condition. The kennel is managed by Brenda with assistance from Lee, who handles the business side. For now, Scarlett rules all of the red heads, Eliott is a couch potatoe, Connor is always in trouble, and Katie is searching for her favorite toy, "Lamb Chop".      Yes it is busy, each is bathed and groomed regularly especially in "mud season" and according to show schedules.
Enjoy our website, there are photos that goes back to the 1970's,   photos of our many dogs, past and present,  and litters that we have bred.  Each dog we have owned since the 90's has their own page and pedigrees posted.